Infrastructure, Investment, Basketball, North America
Sacramento Kings CTO Ryan Montoya on creating the 21st century coliseum
Ryan Montoya, the chief technology officer at the Sacramento Kings, explains why the team's Golden 1 Center is the 'most technologically advanced arena in the world'.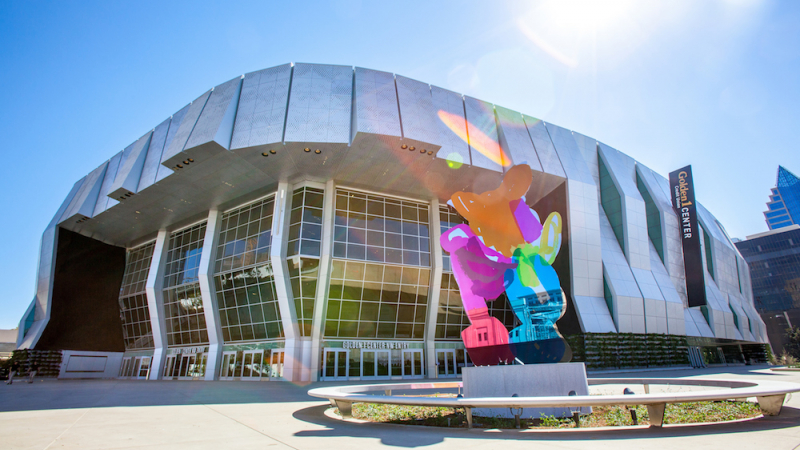 The Sacramento Kings' Golden 1 Center is the 'most technologically advanced arena in the world', replete with an array of innovations including the fastest Wi-Fi connection in sport, a state of the art digital and data nerve centre, and the largest videoboard in the National Basketball Association (NBA). It is also the greenest sports venue on the planet, an architectural marvel that has set a new standard for energy efficiency and sustainability as the first LEED Platinum indoor sports venue, and the centrepiece of an "NBA 3.0" philosophy championed by Vivek Ranadivé, the Indian-born software magnate who purchased the Kings in the spring of 2013 for a then-NBA record US$534 million.
Ranadivé's ambitious plan was to build what he called "the 21st century coliseum": a sports arena that could serve as both the physical manifestation of the Kings' all-new, ultra high-tech identity, and a benchmark for the sports venue of the future. Four years and more than US$550 million later, Ranadivé's vision has come to fruition. Having opened in downtown Sacramento last September, the Golden 1 Center has just completed its first NBA season to rave reviews, picking up a string of design accolades and garnering plaudits from just about everyone who set foot inside the arena.
As this season's playoffs got underway in April, SportsPro caught up with the Kings' chief technology officer Ryan Montoya to discuss Ranadivé's vision, how the team is using cutting-edge technology to customise the fan experience, and the future of the sports tech space at large.
SP: To what extent does your approach to technology stem from your owner, Vivek Ranadivé?
RM: Vivek's vision for the 21st century coliseum drives our connected fan experience. His transformative work in real-time computing is the foundation for how we want to redefine the guest experience. Without his concepts and vision, the arena's advanced features wouldn't interact or connect to each other – and we wouldn't be able to create the hyper-personalised experience.
Given that technological innovation has come to be the centrepiece of the Kings' brand identity under Ranadivé, how important is to stay ahead of the curve?
We aren't just planning to stay ahead of the curve, we are incorporating the projected evolution of technology into our development strategy. As we've just opened the world's most advanced arena, it was imperative for us to create a platform that is scalable and will remain advanced for years to come.
To what extent has the Golden 1 Center been designed with future advancements in mind?
What makes Golden 1 Center the most technologically advanced arena in the world is precisely that: it's future proofed. We brought in more connectivity than is currently needed so that we could stay ahead of the curve as new technologies emerge. Fans may be sending texts or Snapchats in VR soon, and we have built a network ready to handle that. With all of this connectivity, we are still only using a fraction of the capacity in our data center, so we are ready to grow quickly.
What work goes into monitoring the market for emerging technologies and how do you ultimately decide which new innovations to incorporate into Golden 1 Center?
With Vivek leading the organisation, we're fortunate to be connected to some of the leading technology innovators in the world. As CTO, I oversee our Innovation and Technology team dedicated to monitoring technologies that will transform the fan experience. My team is constantly meeting with both established technology providers and exciting startups to stay up to date on the latest innovations both inside and outside the sports industry. Whether it's a new VR product or a new security software, our team then evaluates the technology to ensure a successful integration into the arena environment.
Technology implementations should only augment the fan experience by making it more frictionless, seamless and intuitive.
As many in sport clamour for the next big thing, how difficult is it to strike a balance between adding value to the fan experience and tech for tech's sake?
For us, it is always about the fan experience. When we started the process of building Golden 1 Center, Vivek took us to IDEO to learn from world leaders on user-centric design. We had to look at the arena as a product for providing fans the best experience for watching live basketball and other events. Technology implementations should only augment the fan experience by making it more frictionless, seamless and intuitive by speeding up lines, removing barriers and creating an improved experience for all our guests.
How much of what you're doing at Golden 1 Center is expressly intended to increase revenue, how much is to enrich and customise the fan experience, and how much is simply to indulge your status as leaders in sports tech?
Our view is that if we focus on the core product—delivering the ultimate arena experience—the other two will follow. That is the view that global technology leaders take, and we implement that same philosophy at the Kings.
How far can you make each venue experience a personal one?
If fans download our app and opt in to our loyalty and rewards system, we are able to customize the offers they receive based on their activity at the arena. We are also able to monitor the fan experience during games from our Mission Control, so that if any incident does occur, we can dispatch and ambassador or manager to help ensure the best fan experience possible.
How close are you to being able to extend the in-venue experience to fans elsewhere? Is that something you're working towards?
Virtual reality is a technology that we continue to look for innovative ways to use. When we launched our VR stream in 2015, it wasn't just to showcase the technology. We did it with purpose by broadcasting the game to two places with fans that may not ever have the courtside, in-arena experience: a school half-way around the world in India and a children's hospital full of young Kings fans in Sacramento. We're continuing to work with the NBA and innovative technology partners to share the excitement of NBA basketball beyond the arena's walls.
You've recently added gaming elements to your NBA game presentation. What is your approach to eSports and what's the response been like from your fanbase?
eSports are an exciting frontier that we're looking forward to engaging in. We'll be among the first teams in the NBA's pilot league. The initial reaction to our eSports activation was very positive, and we look forward to engaging more with the gaming community in the Sacramento region and around the world.
Robots and automation are set to have a dramatic impact on society largely because they'll make some human jobs redundant. As a microcosm of the increasingly connected world at large, how has your organisation and the size and structure of its human workforce evolved to coincide with all the new tech you've introduced?
As an organisation we look to use technology beyond the fan experience and provide our team members with the best tools. Our employees benefit from the cutting edge tools that allow them to do their job better; not to replace them. Our team strength coaches benefit from advanced video software and tracking platforms. Our ticket sales and service teams benefit from social selling and communications tools. Even our guest service teams benefit from the advanced communications platform that helps them cater to guest needs in real-time. Technologies like robotics and automation streamline many of the processes of data, security and financial tracking. This is time that our staff can then use to make personal connections with our guests, something a robot could never replace.
More generally, where do you take inspiration from? Other than yourselves, who's setting the standard in sport when it comes to technology?
It starts with Vivek. His vision for real-time customer service drives how we think about technology. As a league, the NBA does an incredible job of identifying trends and creating compelling uses to enhance the fan experience. However, our approach to innovation keeps us looking outside the world of sports, and into technology more generally. We look at global leaders in consumer technology and social media to see what new platforms they provide for us and our fans.
Where do you see the greatest scope for innovation in the sports venue tech space?
The future will land in how you share the in-arena experience beyond the walls; bringing that level of excitement and the thrill of a game, into someone's living room half way around the world. AR, VR and MR (mixed reality) are going to redefine how people around the world interact with technology and live events, so we look forward to exploring ways in which fans can connect with the Kings across these new platforms.
What does the fan experience of the future look like to you?
There are two categories of fan experience: at the arena, and around the world. For fans coming to the arena, our goal is to continue to reduce friction. Transportation to and from games is going to be made much more seamless through the development and deployment of autonomous vehicles. Already, Vivek and the Kings are working with government officials to begin testing this technology in Sacramento. Soon, fans will also be able to walk into a venue without scanning a ticket or pulling out a wallet to pay for a meal.
However, we recognise that a majority of our fan base may never come to the arena, especially as basketball continues to grow in the global market. We're looking at ways to continue to grow in the AR, VR and MR space to bring fans from around the world closer to Kings basketball, and make them feel like they are a part of the action inside Golden 1 Center.