Media Rights, Security and Integrity
Why Sportradar is expanding into public-facing data and OTT: 'It's a natural progression'
Familiar for years as a provider of betting and integrity services, sports data and content specialist Sportradar has recently diversified into a range of more public-facing endeavours from visual analytics to OTT. As managing director of group operations David Lampitt explains, it is a natural progression that will help the company get rights holders closer to fans in more places than ever.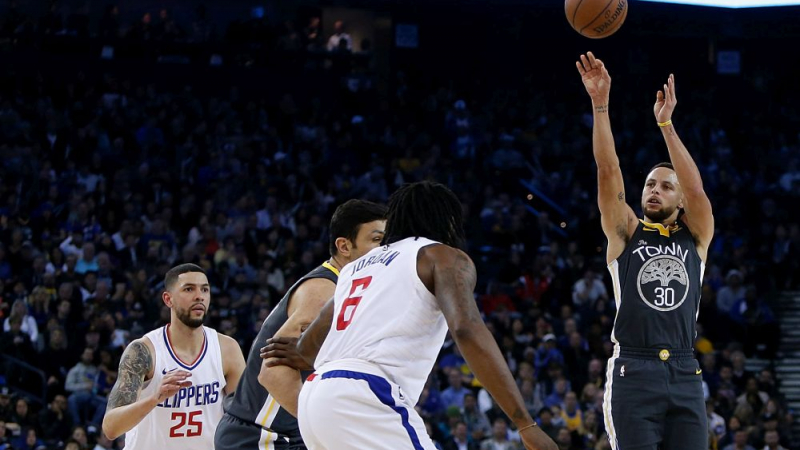 Technology has driven changes in personal and market behaviour right across the sports industry in the past decade, and almost every organisation has had to find the means to adapt. Few companies have responded in such an interesting fashion as Sportradar, once best known for providing media and data infrastructure to betting companies and now delivering OTT solutions and insights to some of the biggest fanbases in the world.
From the outside, this may appear to be a group experimenting with new endeavours but there is a logic to it – within Sportradar it is all seen as development, rather than departure.
"In some ways it's a natural progression," says David Lampitt (right), the managing director of group operations at Sportradar. "Our business is founded on a couple of key raw materials, which are sports data and audiovisual content. So we've built our business out of the premise of trying to find as many ways as possible of innovating in the exploitation and commercialisation of that sports content in the downstream market."
Just as Sportradar's entry into each new area has grown from its existing abilities, so its approach is informed by the experience of supplying its wares to companies in the betting sector. There, Lampitt notes, with thousands changing hands in any given currency on precise sporting outcomes, the speed at which information must be processed is very high; the tolerance among clients for errors is very low.
"Every single part of our infrastructure is built around that requirement for quality and accuracy and reliability," he argues, "and if you don't have that just ingrained into every step of your process – from collecting the data to monitoring to tracking and quality control, etc – it's much harder to reverse-engineer it."
Another change in the marketplace that has inspired Sportradar's evolution is the way in which rights holders view the data at their disposal. Where just a few years ago there were many who saw provision of data as an end in itself, now there are more – particularly among those rights holders without large in-house teams – who have an abundance of raw information that needs to be better understood.
"We've evolved from being a data distribution service to a data developer," Lampitt says, "a data visualisation developer and a product developer that provides what is almost a finished article to clients who can then brand it or modify it slightly."
But whatever Sportradar is currently doing in sport, Lampitt ultimately sees its role as providing points of contact between rights holders and the followers of their sport – facilitating "fan engagement across the spectrum".
"Whether that fan engagement is being driven by the ability to bet on their favourite sport or whether it is being driven by the ability to see a great visualisation of how a particular play in the NFL [National Football League] unfolded and what was happening to the individual player at each point in time," he says, "or whether it is simply delivering data so that people can get an immediate app notification on their phone, all of those things are somehow facets of the same end goal which is, ultimately, to transform the way in which fans experience and consume sports content."
The end goal is ultimately transform the way in which fans experience and consume sports content
Delving into data
Effectively, Sportradar's activities in data-processing run a similar gamut – from highly specialised supportive infrastructure to systems that reach the fan directly. If you check the latest NBA score on Bleacher Report, Lampitt notes, "the real-time scores and stats you would be seeing are powered by us".
The move towards a more public-facing data operation began in earnest just under five years ago. "The strategic shift in focus was probably best illustrated with our acquisition of SportsData LLC, which is a US company that we acquired at the end of 2013," Lampitt recalls. "They were a pure sports data media business in the US and that acquisition was the first step in our strategic development of that side of our business."
That Sportradar made its first steps into that sector through North America was no coincidence. "We made a very clear decision to develop that side of our business through the US," Lampitt explains, "because the US market for sports data and content is the most developed worldwide; they have the biggest demand for data and content around their sports and the sports themselves are very data and content-rich."
The company now has partnerships of some form or another with the NFL, the National Basketball Association (NBA), Major League Baseball (MLB), the National Hockey League (NHL) and Major League Soccer (MLS). The parameters of these vary from deal to deal. Sportradar's function for the NFL is as the league's "official data provider for media as well as for their tracking data", whereas its responsibilities for the NBA are dense, running to providing official data and streaming for betting partners outside the US. Where required, the company takes a suitably malleable approach in its work with third parties.
"We don't do the tracking technology itself, so we partner with the technology providers – Zebra Systems for the NFL and a company called Second Spectrum for the NBA. We've deliberately set ourselves up as being agnostic in that regard as to which tracking company is used by which rights holder or league, but we provide the infrastructure – what we call the 'semantic layer' – to ingest this huge amount of data that comes from the tracking technology.
"We ingest that, make friends with it, and turn it into something that is consumable and is something that fans themselves want to consume. Then, obviously, we have the distribution network both on the media and the betting side to maximise the commercial opportunities for rights holders."
Sportradar's partnership with the NFL allows fans to consume visualised data and analytics in a range of ways
The result is a range of products that interpret and illustrate data in a way that satisfies an array of end users. Game Stream, for example, is an advanced research tool offering 3D visualisations of key plays in matches, viewable from different angles. It provides details of players speeds, distances covered and acceleration, tracking what has happened and why to a depth required by coaches or those with similar interpretative needs.
Game Stories, meanwhile, can use the same data to generate social media-ready clips for public consumption, snackable and shareable nuggets of insight that answer broad questions about a game in a playful yet meaningful way.
"We've got some great teams in the US now developing products," Lampitt adds. "We acquired a company called Mocap Analytics, who are specialists in transforming that big tracking data and providing incredible insight with that for sports organisations. They were already partnering with, for example, the Golden State Warriors in the NBA. So we acquired them at the back end of last year because, again, it fits in with that layer of us providing this transformative information that can drive forward the sports fan experience."
A key operating principle of any technology company is scalability – creating products that can be applied to projects of different sizes – and Lampitt believes that Sportradar's work with the major leagues will spin off flexible solutions with uses "that might be suitable for a host of other rights holders".
"With World Snooker," he says, "we provide a lot of the back-end infrastructure for their competitions – the scoring that takes place at the competitions, the in-venue scoreboard, the player rankings, and all of the data-related content that goes on the website. For the ITF [International Tennis Federation], similarly, we've created a media platform that has given a whole different level of visibility of ITF tennis to fans worldwide which, previously, simply wasn't there. That's through live data feeds and scoring information; through greater availability of streamed content.
"And it really depends upon how each federation sees the opportunity to develop their sport and to access fans and provide information to the fans of their sport. So our partnerships with the federations are shaped based upon a shared set of ideas as to how we're going to help facilitate that process. Of course, we bring ideas to the table and we've ended up doing a huge amount of work in the background with the ITF on a partnership which was initially focused on the betting side but actually has developed into a much more multi-faceted partnership – which, as you may have seen, has now incorporated OTT services."
Our partnerships with the federations are shaped based upon a shared set of ideas as to how we're going to help facilitate that process of developing their sport
Down with OTT
Sportradar OTT arrived last June, with the company announcing a partnership to deliver a direct-to-viewer platform for the European Handball Federation (EHF). That product has since been used by the likes of the ITF and the organisers of volleyball's Montreux Volley Masters.
As with its data expansion, Sportradar's shift into OTT was predicated on the provision of specialist services to the betting sector – in this case, secure live streams – and kick-started by a major acquisition. In April 2016 Sportradar purchased German agency The Sportsman Media Group, whose assets included pioneering Austrian streaming platform Laola1.tv and its portfolio of rights.
"It will hopefully be no surprise to hear that it was something that factored into our decision-making in the acquisition process," says Lampitt, asked whether Sportradar had seen The Sportsman from the outset as offering a route into the burgeoning direct-toconsumer sector. Fundamentally, the opportunity was there to improve the company's offer to rights holders and, from there, to the fan.
"We completed a quite significant integration project," Lampitt adds, "effectively taking all of the best pieces of our and their stacks to provide the best platform for delivering streams worldwide – whether for betting or media. But we were very aware of the fact that they had a media and OTT business that was a really interesting proposition for us, because it was something that we didn't have."
Many had spotted the appetite among fans for digital access to live sport, but what Sportradar believed it could do was open supply lines of that content beyond a tranche of rights holders at the very elite end. "The really interesting part of that for us," Lampitt explains, "was coming up with a business model that somehow challenged the status quo, basically. And that business model was and is that we provide the OTT platform and infrastructure to a rights holder and we don't charge them for it."
A flexible approach has helped Sportradar work on a wealth of solutions for federation partners and rights holders such as World Snooker
For the rights holder, the choice is there to offer a subscription or advertising-based model, or some blend of the two. "They don't have an upfront cost," continues Lampitt, "and we are both and jointly motivated to make it work from a commercial perspective because that's how we end up seeing the benefit."
He adds: "We've been almost overwhelmed with demand for it, because it's clear that we've found a challenge and an issue for many rights holders, and they were not seeing a solution in the market which was being offered in the way that we were offering it. We did our research. It wasn't accidental that we went straight to market and got that reaction."
The traditional model of provision, with an upfront fee, remains available to Sportradar customers, and Lampitt also expects the company will be able to offer a flexible service in ways that will prove more meaningful to the viewer.
"The reality, when you're providing a stream, is that somebody who is consuming the stream will want a scorebox, they'll want some stats to come up on the stream to let them know what happened between games, or between innings, or whatever it may be," he says. "For a normal provider of that information, they would need a feed coming from us or another third party data company. We can obviously build that in one go. That's one of the advantages and one of the fundamental strategic plays that we've made through our growth as a business, to try and provide as much of an end-to-end solution as possible."
One of the fundamental strategic plays that we've made through our growth as a business, to try and provide as much of an end-to-end solution as possible
Staying integral
One of the first services to grow out of Sportradar's efforts in the gambling industry was in the closely related field of integrity monitoring. It is perhaps still the practice with which the company is most synonymous, and one that provides a compelling base for a trusting relationship with rights holders.
Sportradar Integrity Services continues to employ its Fraud Detection System (FDS) to study betting patterns on behalf of some of the biggest competitions and federations in sport, including Fifa and soccer's continental confederations, flagging up unusual activity to alert the authorities to possible matchfixing. Its findings have now been used as legal evidence, with the Court of Arbitration for Sport in 2016 leaning on FDS reports in upholding a Uefa match-fixing ban against Albania's KF Skënderbeu Korçë.
"Integrity is core to our offering as well as being core to our values as a business," says Lampitt. "We've invested in that part of our business for over ten years now. We developed our integrity services – specifically our monitoring system – pretty much before anyone else was even thinking about it.
"We recognised this opportunity to leverage some of the information and data modelling and processing power that we had to benefit, principally, the sports federations and ensure that sport is being conducted in a fair and clean way – but also, of course, to protect the betting markets, because identifying manipulation of the betting markets is what we specialise in."
Alongside the FDS, Sportradar's corruption education services have proved invaluable to federations and leagues of all sizes. Until fairly recently, it operated with very limited competition in the space and, Lampitt adds, its services are "run without a profit motive".
"Our aim, year on year, is to try and break even in that part of the business," he says.
Lampitt reveals that there have been talks in the past about spinning off a not-for-profit entity but that factors such as "the interdependencies on access to data" have precluded that from happening. Still, he insists, the work of monitoring betting markets is better undertaken for its impact, rather than its perceptive benefits.
"I think we saw that responsibility that we felt to use some of that data and processing power and whatever else to the right end, and fundamentally that underpins our business as well," he says. "As we've talked about, the segments that we are servicing, whether it's betting or media, ultimately we're servicing a sports fan, at the end of the day. And the success of those various parts of the business depend upon having a secure betting market and having a secure sport."
Integrity is core to our offering as well as being core to our values as a business