Emerging Tech, Data & Media
Brazil team up with STATSports ahead of Fifa World Cup
Brazilian national soccer team to use company's player monitoring devices in Russia.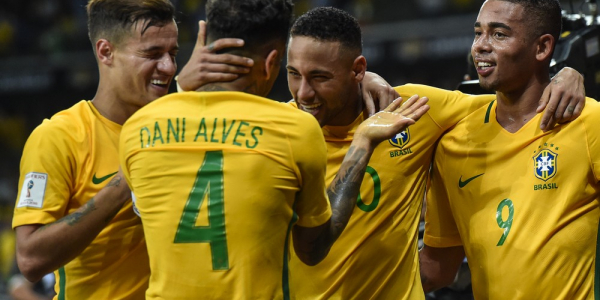 The Brazil Football Confederation (CBF), the governing body for soccer in the country, has partnered with performance data firm STATSports ahead of the 2018 Fifa World Cup.
The long-term collaboration will see the Northern Ireland-based company provide the Brazilian national team with its player monitoring devices during this summer's tournament in Russia. In addition, all national sides within the CBF will use STATSports' APEX Team Series GPS devices for the duration of the agreement.
The provided technology will track each player's performance during practice sessions and games to provide direct and real-time feedback to coaching staff. The devices measure metrics such as distance covered, speed and acceleration, while also recording levels of fatigue to alleviate the risk of injury.
As well as Brazil, STATSports will also be providing its devices at the World Cup for the likes of Germany, Portugal, Belgium, England, Poland, Denmark and Morocco.
The announcement comes shortly after STATSports sealed a ground-breaking deal with the United States Soccer Federation (USSF) whose value could reach UK£1 billion (US$1.5 billion). The financial terms of the company's agreement with the CBF have not been disclosed.
"Physical performance has become a key factor to achieving success in football, and GPS tracking enabled by STATSports equipment is a benchmark in this global market," said Gilberto Ratto, marketing director for the CBF. "We are confident that this partnership will be of utmost importance to efforts carried out by the Brazil national team's coaching staff."
"This agreement with the CBF is huge for STATSports," added the company's co-founder and chief operating officer, Sean O'Connor. "Brazil are an iconic brand in world football, with a rich history of success. We look forward to supporting Brazil to further on-field success at this summer's World Cup and for many years to come.
"For the CBF to swap performance monitoring provider at this stage in the build-up to a World Cup is a huge decision and illustrates the excellence of the Apex system which is used by dozens of international football's leading nations."
Brazil are one of the favourites for the World Cup, and have been drawn in Group E alongside Costa Rica, Switzerland and Serbia.