eSports & Gaming
Dedicated eSports arena to open at Las Vegas' Luxor casino
New Esports Arena location to open in early 2018.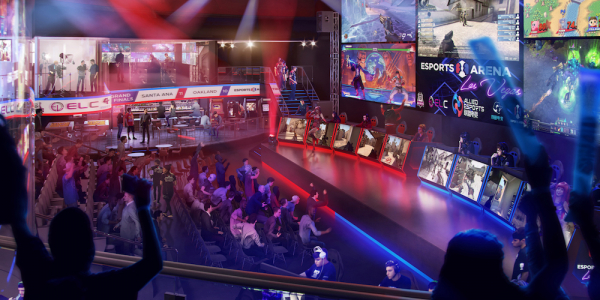 Allied Esports and Esports Arena are teaming up with MGM Resorts International to develop a new dedicated eSports venue at Las Vegas' Luxor Hotel and Casino.
The new venue will become the first permanent eSports arena on the city's casino-filled Strip and is slated to open in early 2018, with work on transforming the Luxor's now-closed LAX nightclub set to begin in early June.
The 30,000-square-foot Esports Arena Las Vegas will feature a competition stage, LED video wall, telescopic seating, daily gaming stations, food and beverage offerings, and streaming and television-quality production studios.
Design firm YWS Design & Architecture has been tasked with transforming the space, which will host tournaments, leagues and other competitive gaming events.
"We have very ambitious expansion plans over the next two years, and when we realised that a location at Luxor was possible, we jumped at the opportunity to develop our flagship here," said Jud Hannigan, the chief executive of Allied Esports International.
"Just as Yankee Stadium, Madison Square Garden and Wembley Stadium are considered their sports' most aspirational venues by players and fans alike, Esports Arena Las Vegas will be the iconic destination in esports and complement the city's incredible appeal, attracting video gaming competitors and fans from around the world."
A statement from the developers said a naming rights partner will be sought for the venue, which will accommodate between 750 and 1,000 people.
The new facility will become the second eSports arena in Las Vegas, following the opening of a smaller venue in the Neonopolis in the city's downtown area in March.
Allied Esports, a joint venture of some of the largest eSports, sports and entertainment companies in China, will manage the property along with Esports Arena, the US arm of Allied Esports which opened North America's first dedicated eSports facility in Santa Ana, California in 2015.
Allied Esports says it is planning to announce between ten and 15 new Esports Arena locations in North America over the next few years.